"For where two or three are gathered in my name, there am I among them."
Matthew 18:20
---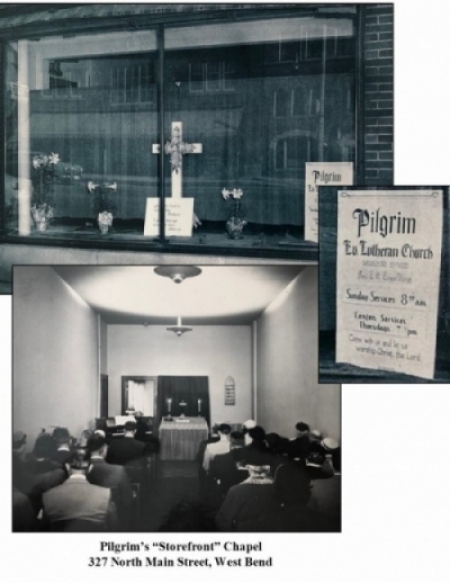 On Tuesday, May 5, 1953, several families holding membership in St. John' s LCMS in New Fane and residents of West Bend met with St. John's Pastor, the Rev. Elmer Zanow, at the residence of Glenway Ehnert, Sr. to request the founding of a LCMS congregation in West Bend. This request was granted and the families quickly began the work of building a new church. A store space at 327 North Main Street was leased, redecorated, and arranged into a chapel. The first service was held three weeks later on May 24, 1953.

Shortly after, Rev. Zanow provided the "West Bend News" with notice of the founding of this new LCMS congregation and an invitation to "all Missouri Synod Lutherans living in West Bend and vicinity, and all others who have no church affiliation to worship with them" beginning on Sunday, June 14 at 8:00 a.m. Rev. Zanow also added that he was "very pleased with enthusiastic willingness shown by his members in providing a chapel for public worship in so short a time."

Less than a year later, on Monday, January 18, 1954, 18 charter members formally chartered "Pilgrim Evangelical Lutheran Church of the Unaltered Augsburg Confession." These members included Rev. Elmer Zanow, Mr. Bruno Dallman, Mr. Glenway Ehnert, Mr. Lloyd Ednert, Mr. Henry Fick, Mrs. Albert Jaeger, Mr. John Kasten, Mr. Henry Kempf, Mr. Fred Kempf, Mr. Arnold Klug, Mr. Harold Klug, Mrs. Henry Klug, Mr. Ervin Mertz, Mr. Richard Zuelheim, Mr. Ellis Rathjen, Mr. Lester Raether, Mr. Lawrence Streelka and Mr. Harry Tousey. At that time, it was reported in the local newspaper that the name Pilgrim was chosen, unanimously, because it "is one of the distinctive names accorded by the Holy Scriptures to the followers of Christ..."

And the Lord added to their number day by day....

By the autumn of 1956, Pilgrim's 72 members had called their first full-time pastor, outgrown their storefront chapel, and purchased four and a half acres of farm land on which to build their permanent home. On Sunday, September 2, 1956, Pilgrim began holding worship services at Fair Park School, 519 North Indiana Avenue in West Bend, and they continued here for the next two years.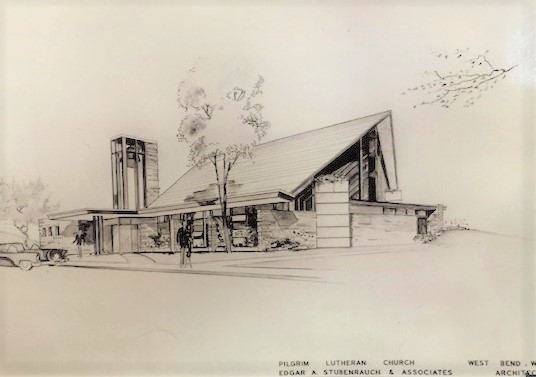 The months of September 1956 through September 1957 were a busy time of planning and preparing. Exceptionally busy were the men on the Building Commitee: Pastor Natzke, Mr. Robert Luedtke, Mr. Herman Laabs, Mr. John Kasten, Mr. Ervin Mertz, and Mr. Henry Ehnert. With their wives and young children waiting for them at home, these men worked tirelessly to ensure this church building was constructed in a God-pleasing manner that would last for many years as the church home of their children, grandchildren and beyond.

After a year of plans and preparations, the Building Committee was ready to break ground and handover the work of constructing this "beautiful modern contemporary church," designed by architect Dean Vollendorf of Edgar A. Steubenrauch and Associates of Sheboygan, to their General Contractor: Zwieg Construction Company of Mayville.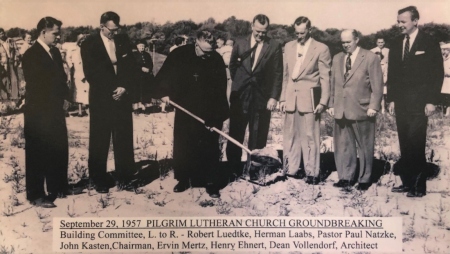 The groundbreaking ceremony was held on the afternoon of Sunday, September 29, 1957. The first shovelful of earth was turned by Rev. Paul Natzke. Construction began and continued through the winter, so that on Sunday, February 2, 1958, the cornerstone was laid. On a Friday in spring, the "glistening, 760-pound bronze bell was mounted in its tower."

The bell was manufactured in Holland by Petit and Fritzen, Ltd., of Aarle-Rixtel, bell-founders since 1660. It produces a musical tone of B natural. The Allen organ was installed by Flanner and Hafsoos of Milwaukee and the furniture was obtained from Endicott Church Furniture Company of Winona Lake, Indiana.

By the end of July 1958, the sanctuary was completed and plans were made for the first of innumerable Divine Services. This service was held on Sunday, August 3, 1958 at 8:30 a.m. and one week later, on Monday, August 11, a two-week Vacation Bible School for children of all ages began. The official dedication service was postponed until later in the fall with the hope that by that time the entire building would be completed and the church lot landscaped.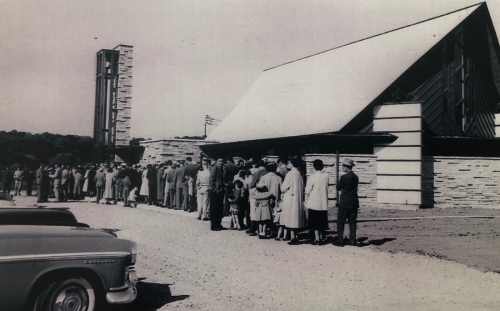 On Sunday, October 12, 1958 at 10:00 a.m., the congregation gathered before the main doors of Pilgrim Ev. Lutheran Church to begin the Service of Dedication. Pastor Natzke spoke the following prayer:
"Our help is in the name of the Lord, who made heaven and earth. Whereas, by the grace of God, we are permitted this day to dedicate this house of God, I herewith open the gates of this house for the preaching of the saving Word of God in accordance with the Confessions of our Church, for the administration and use of the holy Sacraments according to the institution of our Lord Jesus Christ, and for offering to God's glorious majesty the sacrifice of prayer and thanksgiving: in the name of the Father, and the Son, and of the Holy Ghost. Amen."
A Festival Service was held at 2:30 p.m. that afternoon with Rev. Elmer Zanow serving as preacher. This day of celebration was concluded with a 7:30 p.m. Vesper Service. All combined, almost 1,000 persons attended services that wonderful autumn day. The Dedication services' bulletin concluded with the following scripture, which appropriately summarizes the work of the many hands involved in the construction of Pilgrim Evangelical Lutheran Church:
"Not unto us, O Lord, not unto us, but
unto Thy Name give glory, for Thy Mercy,
and for Thy Truth's sake."
Psalm 115:1